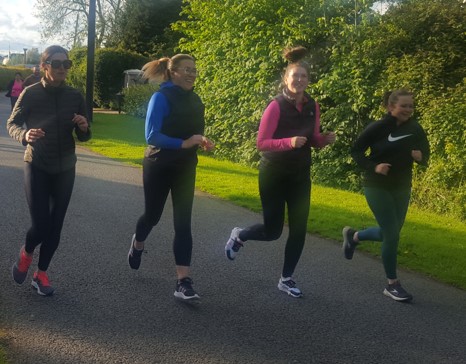 Social Running (0-3k & 3-5k) Programmes
March
02,
2023
-
March
27,
2023
Meath LSP are delighted once again to collaborate with local athletic clubs to roll out a 6-week Social Running Programme. These 0-3k & 3-5k social running programmes are now available in 6 areas Navan, Trim, Tara and Enfield and also two new locations: Carlanstown, Kells and Bettystown.
The 0-3k (Walk to Jog) is suitable for complete beginners and supports those to go from walking to jogging with relative ease.  The structured programme is available for anyone who wants to increase their daily activity and is suitable for people of all ages (18+) and fitness levels. The 3-5k – Jog to Run is ideal for those who would like to improve running fitness and increase their pace & distance. This programme suits those who have already completed a 0-3k or have previous running experience.
All coaching sessions are delivered by qualified club coaches who are experienced runners and are on hand to guide and support everyone taking part. The athletic clubs hosting the Social Running Programmes are Navan AC, Tara AC, Trim AC, Kells AC, Na Fianna AC (Enfield) and Cilles AC in Bettystown.
The duration of each programme is 6-week and cost is €20.
Please see details below with Registration Links:
Tara (Ross Cross)                     Monday 13th March @ 6.30pm  https://eventmaster.ie/event/JBxlipvHRk
Trim (meeting at Supermacs)   Monday 13th March @ 7pm        https://eventmaster.ie/event/pMOLfvyTyo
Navan (Claremont)                   Monday 13th March @ 7pm        https://eventmaster.ie/event/y5rAcP0SVy
Enfield (Enfield GAA)               Monday 13th March @ 7pm        https://eventmaster.ie/event/6x7jIEpT5G
Carlanstown (Deerpark)           Monday 13th March @ 7pm        https://eventmaster.ie/event/2Gzdu2qc0z
Bettystown (Tesco Carpark)     Tuesday 14th March @ 7.30pm  https://eventmaster.ie/event/E4x0h4EF74
For further information contact Lisa at lodowd@meathcoco.ie